"Microneedling In The News" - click HERE.
Signature "Conditioning" Facial Treatment $85
Please allow 60-90 minutes
This skin conditioning treatment, tailored for your individual skin type, includes a deep pore cleansing and highly active enzyme exfoliation to speed up cellular turnover to lighten, brighten, and tighten your skin. Extractions, massage, a nourishing finishing mask, and moisturizing hand/arm mask make this a "must have" for the skin. Great for promoting a healthier complexion or before special occasions!
Ultrasonic, Galvanic, High Frequency, Electroporation, or Celluma LED Light Therapy may be included in your treatment as needed.
Express "Conditioning" Signature Facial Treatment $45
This "touch up" version of the Signature Facial for regular clients keeps you progressing toward your skin improvement goals as a tune up in between regular treatments or when you are in a rush.
Collagen Induction Therapy (Cumulative results enhanced by multiple treatments) $200 Prepaid series 4/$700 (Professional Homecare and prior consultation required)
This treatment firms skin, rebuilds collagen and elastin, visibly reduces fine lines and wrinkles, refines pores, helps break up hyperpigmentation, minimizes acne scarring, and improves overall skin condition. Hyaluronic Serum given to take home at each treatment. Professional homecare products are required. (Recommended 1 month apart).
Dermaplaning OR Microdermabrasion Treatment $65
Deep pore cleansing and enzyme masque followed by a physical exfoliation of the top layers that immediately removes dead skin cells and hair (Dermaplaning) OR Hydrodermabrasion in conjunction with exfoliation and intense hydration (BIO-BRASION TRINITY MICRODERMABRASION) for amazingly soft and glowing skin. May add on additional areas for $25 an area.
Facial Contouring Massage with Microcurrent Facial $95
Turn back the hands of time with a non-invasive cosmetic procedure using Microcurrent, which simulates a tiny subsensory current close to the body's own bio current, to comfortably lift and tone tired facial muscles. Combined with a contouring massage to release your tense, overworked facial muscles at a deeper level leading to a better treatment. The treatment allows for complete product penetration in order to hydrate and revitalize the affected areas, while diminishing the appearance of fine lines and wrinkles. A natural alternative or complement to Botox and fillers, this treatment targets 30 facial muscles to reeducate muscle memory. (2 -3 treatments per week recommended at the onset and results can be maintained with monthly treatments).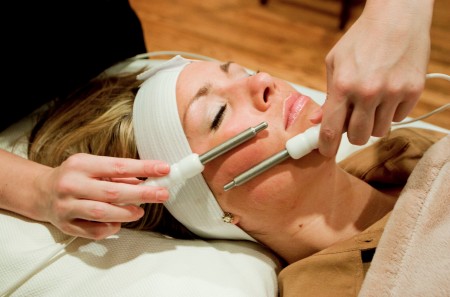 Microcurrent Red Carpet Treatment $125
This 90 minute facial includes a cleanse, Microdermabrasion, Enzyme Peel, or Dermaplaning, as well as a complete Microcurrent treatment. Perfect as a monthly maintenance or before a special event.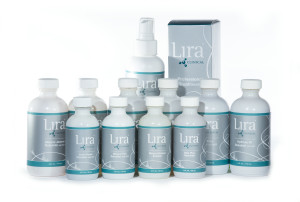 3D Progressive Facial Series Level I, II, or III Peels $65 - $95
First treatment 1 hour/30 minutes for following treatments.
Results-building treatments focus on addressing pigmentation, acne, texture, and overall skin rejuvenation through the use of progressive exfoliation, enzymes and peels. The first appointment includes a thorough consultation with photo-documentation, treatment outline, nutritional considerations and home care product selection followed by a the treatment. Treatments can be performed on your face, neck, chest or back. Prescribed professional home care products are required. (Recommended 2-4 weeks apart).